This past December I took it upon myself to play through the entire Ys series available in the US (8 games in total, but most are relatively short so it didn't take too long). This is a series that has been around forever but never really caught my attention until I got into Falcom's other big series, The Legend of Heroes. The series follows the adventurer Adol Christin and his various travels. The games don't focus much on story (especially compared to the Legend of Heroes series) but are still fun to play. As a result, not a whole lot came to my uncreative mind with respect to religion until I got to Ys VIII -Lacrimosa of Dana-. Today I'm going to talk about Sister Nia and what exactly is prayer.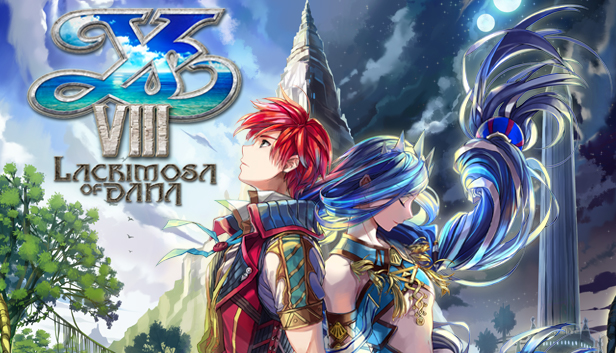 Ys VIII is probably the most plot focused game in the series, but the premise is relatively simple. Adol is working on a passenger liner to travel to a distant land when the ship is attacked by a giant squid and wrecks on a "cursed" island. The basic goal is to find the other castaways and find a way off the island while uncovering the island's mysterious past. One of the castaways is a nun named Sister Nia, who was on the boat returning to the town where she teaches.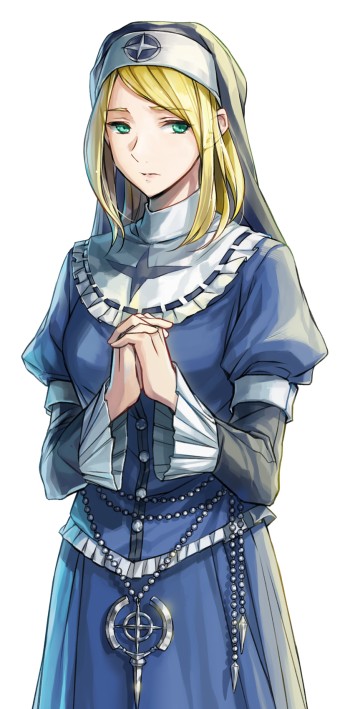 Once you find her on the island and she comes to your castaway village, she spends most of her time praying for a way off the island while helping around the village. After making some progress in the game, she asks you to escort her to a tall nearby mountain. Once there, she decides she needs to not spend all her time praying for her god to get her off the mountain but instead to work towards that herself, symbolically removing her habit.
For the rest of the game when you talk to her she essentially says she hasn't given up on religion and praying but is focusing more on helping everyone get off the island. I can see what the writers were trying to say with this storyline- that you can't just sit around waiting for someone else to save you. It reminded me of the classic homily joke where a man is praying for God to save him from a natural disaster and ignoring the various rescue vehicles that come by to help. That said, the execution felt off to me. It really felt like the game was saying prayer was pointless despite the game's attempts to insist that wasn't the point (after all, it would have been pretty easy to have her work and pray at the same time like real life religious typically do). I knew this point was wrong, but I realized I couldn't actually explain what the point of prayer was. I knew that prayer was important (after all, Jesus spends a lot of time praying in the Gospels and saints are always talking about how important prayer was) but I couldn't really tell anyone why. So I decided I wanted to do some research and find out.


So what exactly is prayer and what is the point? I admit, I don't think I can do a good job explaining this idea but I'm going to still try (for a better explanation, see this Word on Fire Show episode on the metaphysics of prayer where I got my information: https://wordonfireshow.com/episode169/). So what is prayer? It is "the raising of the heart and mind to God." Ok, while that does feel like an accurate definition, it may feel kind of abstract and unhelpful explaining prayer to others who aren't already invested. So instead let's focus on the point of prayer. Prayer doesn't change God- God is unchanging (side note- why does God seem to change in response to prayers in the Bible? According to St. Thomas Aquinas it's just a metaphor). God doesn't need prayers either, unlike say the gods of Greek mythology. So what is the point? The point is that prayer changes us. It helps the prayer become more attuned to God's will and purpose. This is part of why persistence in prayer is important. As St. Augustine puts it, by continuing to pray the heart and soul continue to expand outward to receive the gift God will give us. After all, the heart may not be ready initially, but after a period of waiting it becomes prepared. I admit, this explanation feels abstract and a bit hard for me personally to explain, but it does help me grasp why prayer matters. By praying, I start to focus more on God than on myself. If we go back to Sister Nia and try to view it in this framework, the point of her prayers would be to help hear realize her god wants her to help work to get off the island (not saying something like that would necessarily happen in real life, just trying to apply the real ideas to the fictional setting).


I realize this probably wasn't the most satisfying explanation out there, as I'm still learning myself. That said, I hope that this has led you to start to kind of see why prayer matters even if you still feel you need more on the topic. If you do want more information, I really would encourage you to listen to that podcast or look into the writing of the saints who do a much better job explaining prayer than I do. Prayer is important, so learning more about it can only be a good thing.


Song of the Post-
Sunshine Coastline
Ys VIII -Lacrimosa of Dana-