This past December I finally got around to playing Xenogears. It's a pretty famous JRPG from the PS1 era known for its mature story, good music and the fact that the second half of the game turns into a visual novel because the developers didn't have time to finish it. I'd been meaning to play it for some time but just never got around to it (I didn't really have access to Playstation until late PS2 era and at the time I was way more concerned about getting caught up on Final Fantasy). Not too long ago I saw a video discussing the development and story of the game by Resonant Arc on Youtube. One of the things he mentioned was the game seriously discussed religion and was critical of Gnosticism (something I'd heard about the game back in the day as well). Since I've really only heard Gnosticism talked about in the context of church history, I got suspicious that it was probably a politically correct way of saying the game was critical of Christianity and decided to finally check it out for myself. So what's the verdict?
The game is fun but a bit dated. The story itself was overhyped in my opinion. I wanted to take some time to discuss some of the religious aspects that do show up in the game.
Spoiler warning for the full game


I think when people say Xenogears is critical of Gnosticism, they are mainly referring to how religion is portrayed in the game. The main religious organization is a group called "Ethos." They are your classic fictional church aesthetically modeled after Catholicism (big churches, stained glass, similar hierarchy, etc., they even have a confessional in their headquarters).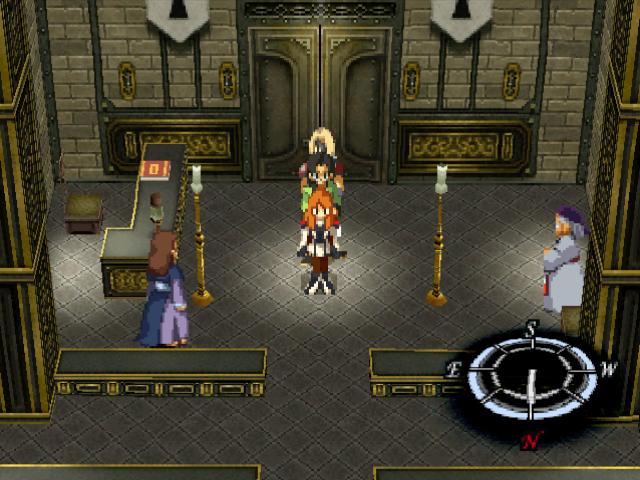 In addition to being a religious organization, they are excavators.  As a result, they effectively control the super advanced ancient technology found underground which I believe is the secret knowledge people use to claim it is criticizing Gnosticism.  Before you reach their headquarters, it wasn't really obvious that it was a religious organization (I personally thought they were only excavators), but once you get there the religious connection is made very clear.  After a certain point in the game the big plot twist with the organization is revealed- it's literally an organization created by a hidden, super advanced country to control the masses (straight out of Karl Marx). This kind of plot twist has become such a cliche in modern media that it is actually more surprising when the organization is legit rather than secretly evil, but when this game came out I'm guessing it was much less common (the 1990s PS1 games were when video game storytelling really started to push its boundaries).  My guess is that for many people this was the first time they encountered what seemed like a serious atheistic story which kind of blew their minds. For me personally, this was actually pretty tame compared to what I was expecting based on how hyped up the game was. I mean yeah, the game is critical of organized religion but its not like the way the religion is set up in the game has any real bearing on how something similar is in reality. This is in contrast to stories that will explicitly call something the Catholic Church and have them do something that doesn't work with Catholicism.  


Another religious feature of Xenogears is that there are many random references to Genesis. From what I have read, religions like Christanity and Judaism are uncommon enough in Japan that they are seen as weird and exotic groups to throw into media even if it may not make sense, kind of like Buddhism and Hinduism are for western countries. The result is media like Evangelion and Xenogears that will just randomly refer to these religions just to seem cool. This is how the references to Genesis in Xenogears work- they're just kind of there without any real purpose. Here are a few examples. Early in the game you meet an old man familiar with the backstory of the world in which the game takes place. The way he describes it is essentially the fall in Genesis with humans being expelled from paradise for some sin. Later in the game we find out that story is an abstract way of referring to a space colonization ship that tried to control a dangerous superweapon but was destroyed and crashed on the game's planet. Another example is the Omnigears. Around halfway through the game you start encountering the 12 powerful Omnigears (basically super powerful mechs). While these robots have names your party uses, but the names the antagonists use are various children of Israel (for example, the main mech Weltall is referred to as Naphtali). There doesn't seem to be any real point to this reference, but to be fair it is possible the intended meaning was lost since it shows up in the rushed second half of the game. One last reference is to Cain and Abel. Late in the game, you find out that the main character is a reincarnation of the sole survivor of the spaceship crash 10000 years ago. When flashing back to his previous lives, one of them shows him (named Abel at the time) being hunted down and killed by Cain, the emperor of the super advanced country from earlier in the game. Once again, this seems to just be a superficial reference to Genesis without any real purpose. There are many small references like these that show up throughout the game. I could see how someone who wasn't super familiar with the stories would think it was pretty cool and had some deep meaning, but I feel that anyone who has actually read Genesis would notice pretty quickly that the references really have no point other than just to be there.


Lastly, I want to talk about how the god in the game is portrayed. Like most games with a fictional religion, the god of the religion is the final boss of the game. This is a pretty common trope these days. After all, if the game wants to give you a sense of accomplishment and power, it'll have you defeat the most powerful thing the writers can think of- a god. Xenogears is a bit different in that instead of it just being like a Greek god (basically a super powerful person), it's a super advanced bio weapon that created life on the planet to repair itself over millennia. If that was all there was to this god there wouldn't be much to comment on, but what makes it different is the intention of the writers. From what I've read, during production of the game the intention was to make the villain explicitly the Christan God, but this idea was localized out when the western branch of the company got involved to avoid controversy. You can still kind of see traces of it here and there, from the superficial Genesis references that would then have a point to various names used to describe the creature over the course of the game (Deus being probably the most common one).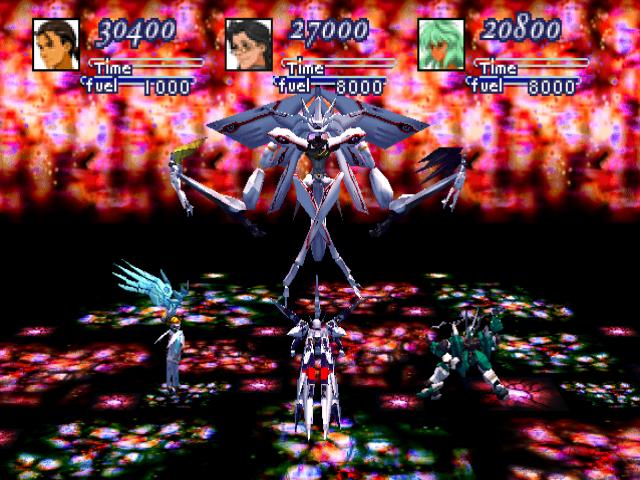 This kind of explicit reference to Christianity isn't super common in games (probably to avoid controversy leading to lower sales) but it does show up every once in a while (the Shin Megami Tensei games being the most prominent examples).  The problem that stories with this portrayal run into is that the way they try to portray God isn't really what He is. This is actually a pretty common problem with media in general, not just in games. God isn't a competitive being that only has power by keeping down humanity, but the act of to be itself.  God doesn't need humanity at all, whether for prayers or power or repairing a broken body, but still wants us as an act of love. It gets pretty hard to discuss what exactly God is without accidentally saying something wrong, so rather than try to continue explaining this myself, I'll refer you to Bishop Barron who talks about this topic pretty frequently in his various Word of Fire videos and explains the topic significantly better than I do (for example, see this:  https://www.youtube.com/watch?v=1zMf_8hkCdc).


Overall, Xenogears is a decent game that seriously discusses religion even if it doesn't do a great job at it.  I don't think I'd recommend it to brand new players like myself, but if they ever remade it with some quality of life changes and a finished second disk it might be worth checking out.  I think a large part of the reason the game didn't bother me as much as I expected it to is the fact that the whole "religion is secretly evil" idea is so cliche now that the game feels pretty par for the course at this point.  The developers went on to make Monolith Soft whose games have similar ideas if you are interested in checking out some others. I personally think Xenoblade Chronicles 2 did a better job with religious themes than Xenogears did if you want to check that one out (although it's been a while so don't expect a post on Xenoblade Chronicles 2 until I finally get around to replaying it).


Song of the Post-
In a Prison of Peace and Regret
Xenogears