One of the more amusing things about being a Catholic interested in nerd media is you find a lot of inaccuracies that go unnoticed because no one else involved in the production or fanbase is even a practicing Christian, let alone Catholic. For example, there was one anime I watched where a character worked for the bishop of the English Puritan Church. When I heard that, I started cracking up, thinking "Ah yes, the English bishop of the people that thought Anglicanism was too Catholic, got kicked out of England and ended up in the new world where they were known as the Pilgrims- that makes total sense." Today, I wanted to talk about one of the more common incorrect ideas that shows up in various media- Catholics mind controlling people into being Catholic.


Catholic mind control shows up in many stories, especially ones where the Catholics are the antagonists. I'll mention two examples. The first is in Assassin's Creed 2. At the end of the game, you find an ancient alien device that mind controls the people around you to do your bidding.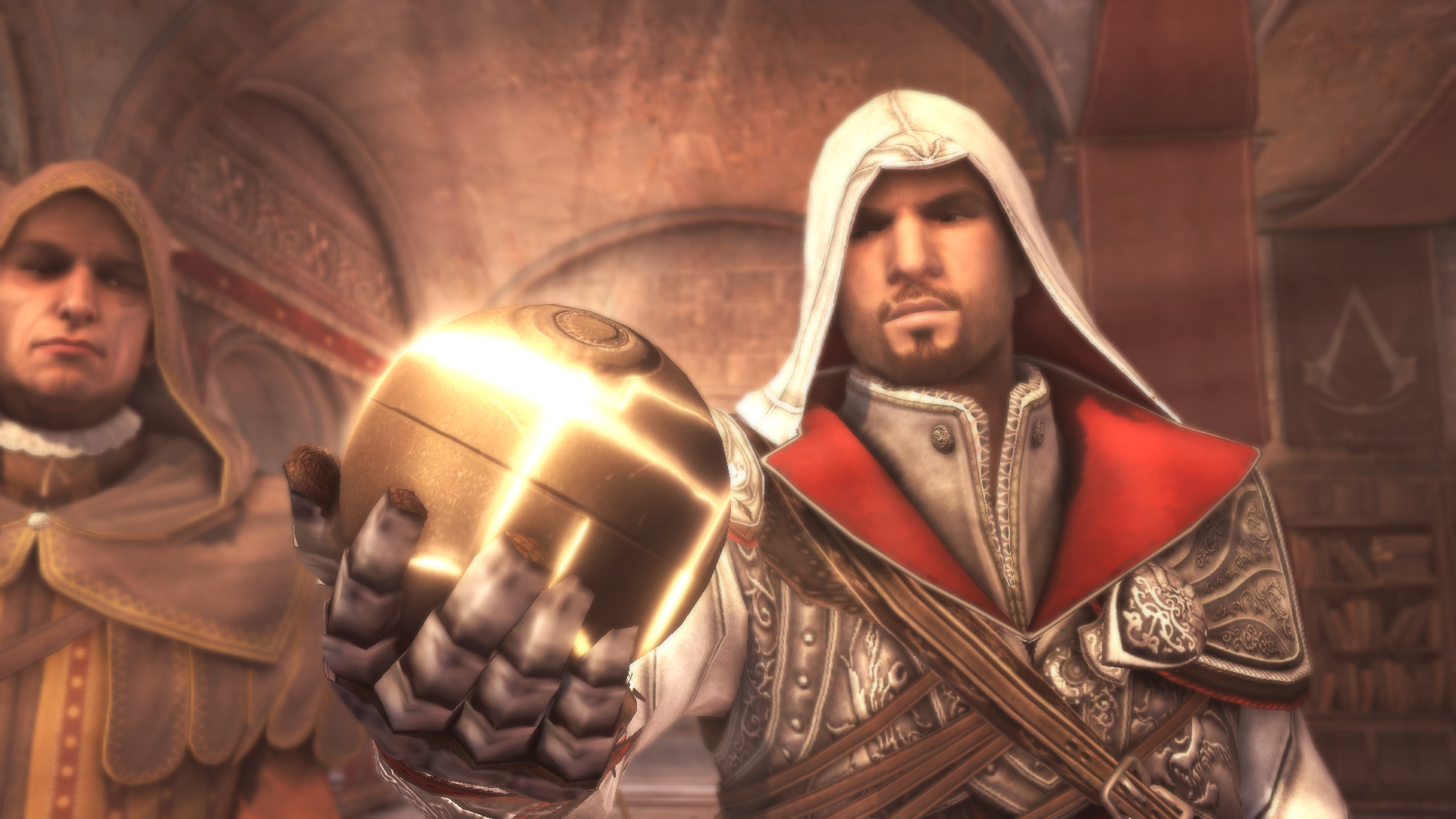 As it is found under the Vatican and is used in one DLC by a monk to cause a zealous mob to riot in Florence, it is implied that the reason Catholicism was established was not because it is true but because Catholic leaders have been using this relic the whole time. Another example comes from the same show as the English Puritan Church I mentioned earlier- the anime A Certain Magical Index. This show alternates between story arcs where magic is the focus (with the Catholic Church being the main antagonist) and science is the focus (where the government of the super scientific city is the antagonist). In one arc, a few Catholic mercenaries are sent to the science town to use a relic of St. Peter that will make everyone in the town believe they were Catholic all along.
I can kind of see why mind control is such a focus in a series with Catholic antagonists. Part of it is probably atheist writers expressing how they felt growing up and projecting their feeling about organized religion on to Catholicism regardless of where they originated (as I mentioned in the past, if you are going to include a religion you'd include Catholicism for the aesthetics). The other part is probably that if a goal of an organization is to convert everyone into following it, it only seems natural that mind controlling people into believing it would be the fastest way to accomplish that. This however, is where the lack of understanding Catholicism shows itself- Catholicism deeply cares about free will.


So why does Catholicism care so much about free will? It clearly isn't an obvious connection because so many writers believe it would be natural for the Catholic Church to just mind control everyone into submission. The answer is love. You can't have love without free will (if you don't believe me, you can look into stories where mind control is used to make someone love another- the person forcing love always comes across as abusive and creepy). God wants everyone to choose to love Him, and you simply can't have that without the free will to make the choice. This reality has many implications. One is part of the answer to the problem of evil (although only a small sub part). Why would an all good God allow people to do evil acts in the world instead of just removing the ability to do so from all humanity? The answer is that without free will people can't do the good of choosing to love Him. This is why, for example, the church has always condemned forced conversions and baptisms (even if some people ignored that rule and did it anyways)- you can't force someone into wanting to love God. This is also why some people believe that in the Garden of Eden story (which doesn't need to be taken literally by the way) the fruit of the knowledge of good and evil was even an option- so that Adam and Eve could choose to obey God and not take it. Finally, free will is often used to reconcile the idea of Hell and an merciful God- someone with free will can still choose to reject that mercy even if it is offered to them. So as you can see, free will is extremely important to Catholicism and Catholic theology and answers many major questions people have about the faith.


In the end, it is quite hilarious that Catholics in various stories will use mind control to forcibly put humanity under the church's control. Removing free will is something that goes against so much of what the church teaches that mind control makes it extremely clear that the writer doesn't know anything about Catholicism. Still, if nothing else, it can give you a nice laugh now that you know what the church actually believes. You'd be surprised at just how enjoyable that accidental comedy can be.


Song of the Post-
Venice Rooftops
Assassin's Creed 2