If you were to look at the religion shelf on my bookshelf, it would become clear pretty quickly that I'm interested in church history.  There is something about seeing how things work out just right in history that is cool to me.  One major set of topics that shows up in church history is the various heresies that pop up periodically.  While studying this topic is nice because by learning what the church says is wrong you also learn what is right, today I want to focus on heretics themselves.  Specifically, I want to talk about how heretics are presented in games and what a heretic is (and isn't) in real life.


The term heretic is actually pretty common in various games and fictional settings. In pretty much any setting with a religion (especially an fanatical one), characters that come into conflict with the religion tend to be branded heretics. For example, I've been recently playing Final Fantasy Tactics. About half way into the game, the main character Razma ends up fighting Cardinal Draclau who has taken the princess hostage.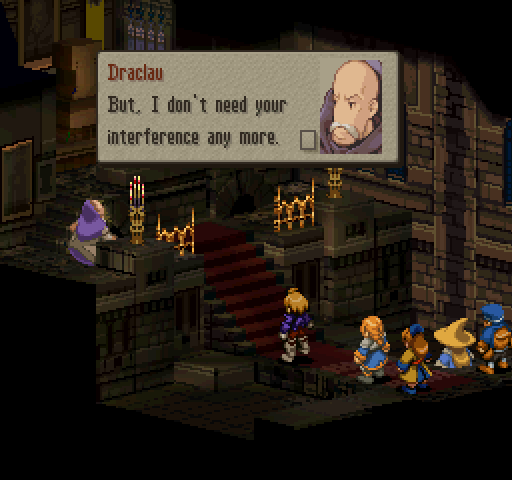 The cardinal uses magic to turn into a monster, but Razma and his team defeat him.  As a result, the church declares him a heretic and the people of the world are told to capture or kill him on sight, despite the fact that the cardinal was the one in the wrong.  This kind of setup is common, and is often used with the "church is secretly evil" plot twist to make the player character enemies of the world.  Another minor example from a more recent game is Fire Emblem:  Three Houses.  Early in the game, some members of the western branch of the Church of Seiros plot to rebel against and attack Archbishop Rhea.  As a result, they are branded heretics and you the player have to fight them, eventually leading to their execution.  In probably the most extreme example, there is the world of Warhammer 40000, where anything going even slightly against the Empire of Man can be considered heresy.  It's so over the top in this setting that in extreme cases it is justification for wiping out an entire planet.  It's so extreme that Warhammer heresy memes and jokes are pretty common online.
Even looking at The Legend of Heroes series, heretic is used to denote enemies of the church, although in that case, it is limited to rebellious and out of control clergy.  So as you can see, most fantasy settings with a church will simply use the term heretic to refer to an enemy of the church.  But what exactly is a heretic in real life?


Simply put, a heretic is someone who has an incorrect belief, is told that belief is incorrect and to stop believing it by some kind of authority, and choosing to believe it anyways (I believe the term "obstinately" shows up in the official definition).  The important parts of this definition are the second and third parts, namely that a heretic has been corrected by some authority and still deliberately chooses to be wrong anyways.  This is important because it means that someone who is wrong about something isn't a heretic, just someone who is wrong.  For example, the church father Origen had many beliefs that the church today would consider wrong, but we wouldn't call him a heretic because no one corrected him at the time (as the doctrines in question weren't fully developed).  On this flip side, Arius would be considered a heretic, because even after the Council of Nicea said his beliefs about Jesus were wrong, he still continued to preach it.  This also explains why the church would consider the original Protestants heretics but not modern ones.  The early Protestants were under the authority of the church who told them they were wrong but chose to ignore that.  Modern Protestants however were raised outside the church and thus lack that authority correcting them.  The next question would be once someone is a heretic, what should be done about them?  In most fictional settings, the answer is almost exclusively to execute them.  In real life, execution was indeed an option, but typically only after spending considerable time convincing the person to give up their incorrect opinion.  The justification for executing them would typically be to prevent the incorrect belief from spreading and leading more people away from the church and to give them a clear period of time to help them repent (similar to the Catholic justification for the death penalty).  This is the justification used (whether right or wrong) to execute Jan Hus, one of the proto-Protestants.  So overall, heretics are people who are wrong, told they are wrong by a church authority and choose to remain wrong rather than simply any enemy of the church.  And while they have been executed in the past, it is typically as a last resort, not an automatic response.


So as you can see, heretics in fictional religions don't really align with the real thing.  As I mentioned earlier, I believe the reason the term heretic is thrown around in games so often is that it is an easy way to get the world to turn on the player even if they are the hero, especially in conjunction with the church is secretly evil trope.  I'll admit, while I'm completely sick of the church being secretly evil, I tend to be more ok with the main characters being branded heretics because it tends to lead to interesting gameplay (as being on the run usually limits your options).  I just hope people understand that fictional stories don't necessarily correspond to reality.


Song of the Post
Apoplexy
Final Fantasy Tactics